End to End Solution for secure registration & verification of IoT clients as per KYC norms
End to End Solution for secure registration & verification of IoT clients as per KYC norms
There is a need for a new set of know-your-customer norms and processes that can address the remote and dispersed devices and gateways, such that the custodians can be linked, verified and addressed when attempting to establish the identity and ownership of a dispersed connected device.
SenseTouch KYC for machines (KYCM) enables a seamless customer verification and linking machine by collecting, maintaining and managing end customer KYC details. SenseTouch KYC enables formation of  "Custodian – Machine / Device – SIM" triplet using a secure process. These details are collected using a mobile application. The application helps in complying with DoT Guidelines & TRAI Recommendations.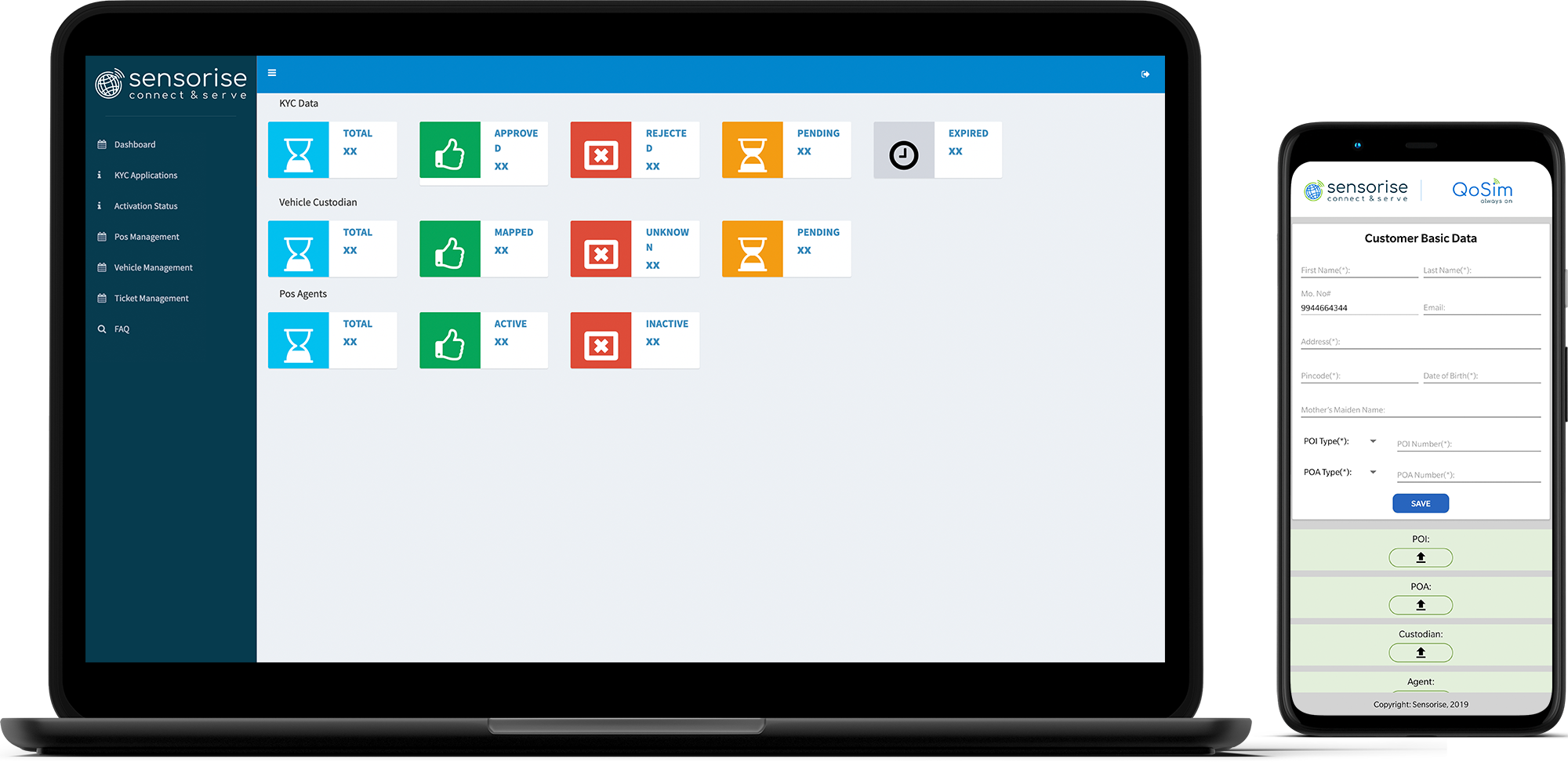 Admin & Customer User Interface for SenseTouch KYC
Steps For Mapping KYC - Process Flow
Onboarding
Original Equipment (OE) Manufacturers (like Automobile and Electricity meters), Device Manufacturers (OEM), OE and Dealers Point of Sales (PoS) agents onboarded by Sensorise Admin.
Step 1
Machine Onboarding
Sensorise Admin, OE, OEM or Dealer securely uploads machine data. Data can be uploaded using secure REST API or encrypted files using SenseTouch KYC portal.
Step 2
KYC Document Upload
Using the mobile application, PoS Agent can upload all the required KYC  documents and photographs in compliance to DoT's Alternate Digital KYC process dated 3 April 2019.
Step 3
Linking Machine with KYC
Using the mobile application, PoS Agent, after OTP verification from the customer can link customer's KYC with the machine as lawful owner of the machine and connectivity embedded in it.
Step 4
Verification & Completion
Sensorise Admin verifies the KYC documents, machines and embedded connectivity details before connectivity is enabled for the machine.
Step 5
Data Upload
Upload of the information to the Government Portal.
Step 6
Know-Your-Customer for Machines with SenseTouch Features